Interview | Saint Motel: "Being underdogs like we are, makes this success feel all the more crazy because we aren't your typical Top 40 band"
Posted On 9 Ιανουαρίου, 2015
---
I think that morning I wasn't awakened by the coffee but by the song itself, which of course I put in "repeat"! Saint Motel were included amongst "My new favorites" from that very moment and that's when I knew that I wanted to approach them for an interview. The answer came very quickly from the frontman of the band, A / J which who was in Los Angeles preparing feverishly all the latest details for their next full length album which will contain also "My Type". 
Therefore, it is no coincidence that this band was chosen by the Arctic Monkeys as the opening act for their latest tour nor that they've already began to become "platinum" in other countries such as Italy where it has long been fixed in the local Top10. A/J Jackson stole a little time to introduce us to his friends Aaron Sharp, Greg Erwin and Dak in an exclusive interview for the readers of tralala.gr… and I'm grateful!
Saint Motel welcome to tralala.gr. Your latest hit "My type" holds a huge airplay on the radios of our country and we would like to know more about your band. so. What are you up to lately? Are you on tour?
We spent over a quarter of 2014 on the road touring but we are home now for a couple weeks.  We started off 2014 by touring in the US with the Arctic Monkeys and ended the year with our last show on the finale of the Italian X-Factor.  It's been wild. 
You are considered a progressive band but in your music it is clear that you use a lot of vintage elements that make us recall the music of the 70's and 80's. How would you define your music?
Picture a song as a blueprint for a house.  The materials you use to build it can vary immensely!  You could execute the same plans a million different ways and I kinda see building a song in the same way.  You could use a guitar to play a certain melody or a piano.  Or a trumpet!
What are your musical influences and musicians whom you admire for their work?
The band is influenced by a ton of things.  We listen to everything from Burt Bacharach to Black Sabbath.  
How did you meet each other and how was the band formed initially?
Sharp and I met in film school.  We were both studying film but music was our passion so we started playing in bands together.  Dak was a sushi chef at a restaurant nearby and Greg went to a school down the road.
How hard is it to keep the balance between friendship and collaboration?
We are best friends on a chaotic and sometimes stressful journey and at times passions fly but not so much recently.  I think we have matured a bit musically and as human beings.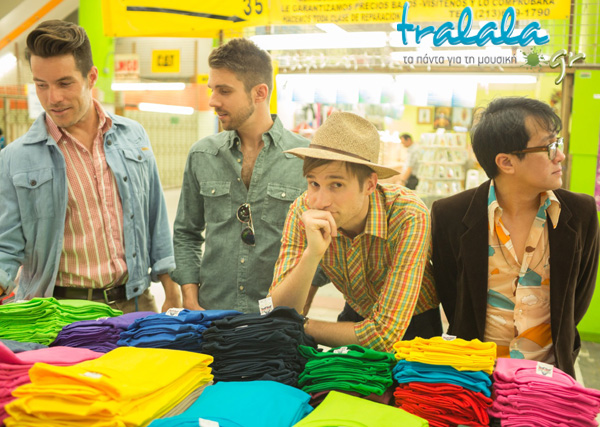 What was the most difficult moment of Saint Motel so far and how did you manage to get past it?
We got in a semi-car accident right at the beginning of the UK run of our last European tour and I messed up my back pretty bad.  Had to perform every night and just work through the pain.  It was tough because sometimes I can't control my excitement on stage, and right when I would jump around a bit too hard, BAM a jolt of pain would snap me right out of it.
Everyone in the band really helped me through that one.  I was basically their Grandpa for a couple weeks there haha.
A/J and Sharp, you were attending the same film school in Southern California and I have to ask you.. All of your videos are very meticulously made and they also have a vintage atmosphere that's really captivating every time. Do you make your own videos as well? Who's doing what for the clips?
Thank you!  Making music videos on a budget is a hell of thing.  I directed quite a few of them ("My Type", "Benny Goodman", "Puzzle Pieces", and others).  I have a habit of getting really into videos that I direct, for all the bands I work with, but especially for Saint Motel.  I try to plan out every shot of the video ahead of time and since I edit a lot of them it helps me understand exactly what we need to shoot on set to make the video work.
The videos I haven't directed were all directed by fellow films school classmates though and most the crews involved, everyone from craft services to the producers, are usually old and dear friends.  Saint Motel videos are a total family affair.
You have collaborated with huge names of the discography worldwide like: Band of Skulls, Imagine Dragons, Pharrell Williams, Busta Rhymes, Dr.Dre, Arctic Monkeys, Weezer etc. Which one stands out for you and why?
I love it!  Dr. Dre, Busta Rhymes!  We haven't ever toured with them but we'd love to.  The other bands you mentioned have all been amazing experiences.  We learned a lot from each one of them.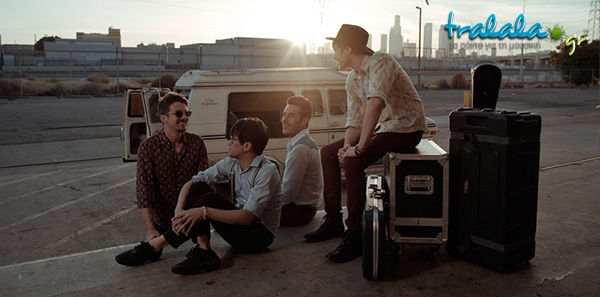 Are there any other artists that you would "kill" to collaborate with?
You mean like make music with?  
Yes
Lots of them… David Bowie, Iggy Pop, Tom Jones, Gesaffelstein and others!
"My type" became your first Top 40 song in numerous European countries succeeding to become gold in Italy! How do you feel about that?
It's an incredible feeling.  Being underdogs like we are, it feels all the more crazy because we aren't your typical Top 40 band.
What do you consider to be the key-ingredient in making a successful song? The music and the lyrics? The artist? Or simply the promotion?
When you have a great song with a unique and clever lyrical idea, you'll have 99% of the ingredients right there.  But it's really hard to get those two things together. 
Did you ever get any bad reviews? What was the worst one that you can recall?
We had a review once where they said we were too good looking to be taken seriously.  That one was funny.
What is your next professional step? Should we expect your next full album anytime soon?
Yes yes!  Full album coming and we are very excited to getting together.  Working on that right now as a matter of fact.
What's your relationship with your fans? How do you communicate with them?
We try to stay active on social media and answer peoples emails.  We love talking to people after shows and hearing what they have to say.  It's kinda like one big Saint Motel family. We started something called "Fan Appreciation Friday" or #FAF where we feature someone's fan art, or cover, etc. to showcase these amazing people.
Have you ever been in Greece?
No, but we'd love to come!  My sister and mom both studied abroad there when they were younger.  Where should we come play?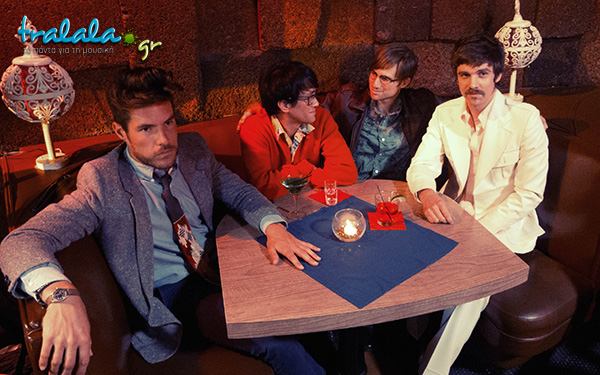 In Athens there are many beautiful places that you could do this!  Do you know any Greek artists or public figures?
We are big Vangelis fans!  He is constantly on in our van on tour.  And of course John Stamos!  Was Elia Kazan Greek?
Yes he was. What is your opinion about our country and Greek people?
A land full of fascinating history and delicious food.  Can't wait to come and experience both firsthand.
What's the message you would like to pass to your audience?
Reach out and say hi!  
Is there anything that people don't know about Saint Motel and you would like to share with them for the first time?
We're pregnant.  
Thank you so much for this interview and we hope to see you live in our country soon!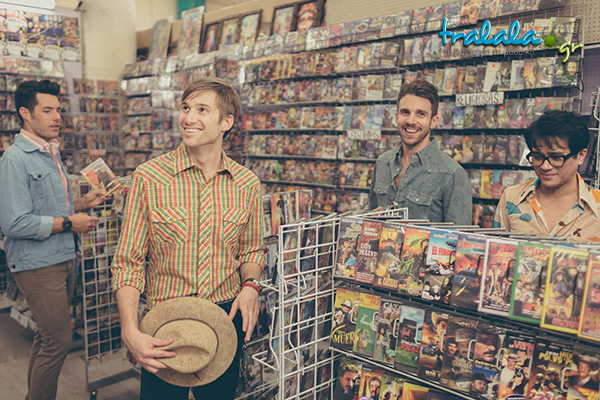 Interview to Thodoris Kolliopoulos
Special thanks to: Byron Tsourapis & Electra Limniou
---
Διαβάστε επίσης